This year hasn't been the greatest for movie lovers or even the general audiences who yearn plain simple 'fun times' at the movies. And thank God, this one comes as a breath of fresh air for everyone who was just getting disappointed with movies one after the other. This IS essentially a small town flavoured Dum Laga ke Haisha brand of a movie which talks to everyone sitting in that theatre. It has some amazing writing, on-point acting and great texture and not to miss a runtime of just 2 hours which makes it an ideal watch. The plot is quite far fetched but still seems plausible because of the way it is treated. You never get the time to question the on goings because almost every scene has that one note that you admire. A lot of it has to be credited to the director- Ashwiny Iyer Tiwari who picks up the flavour with much ease. Female directors be awesome!
This is a story of Bitty who is rejected in marriage proposals again and again because of her personality. She is outspoken, she drinks, she smokes, she watches English films (doesn't understand them completely though!), does not sit with both legs on one side on a bike, has endless night outs and never reveals if she is actually a virgin or not. The question that the character asks is something we all should- does any of it really matter? In an initial scene- sharing a smoke with her father, played beautifully by Pankaj Tripathi, she questions all of this and refreshingly her father does not tell her that thinking on those lines is incorrect. He almost only informs her "hum ye sab nahin maante par samaaj maanta hai, aur jo bhi ho, rehna toh isi samaaj mein hai". While Bitty is the son to her father, she remains a daughter to her mother- played by Seema Pahwa (again a very very fine actress). Her mother is so concerned about getting her daughter married that she literally questions the marital status of every boy who enters her home.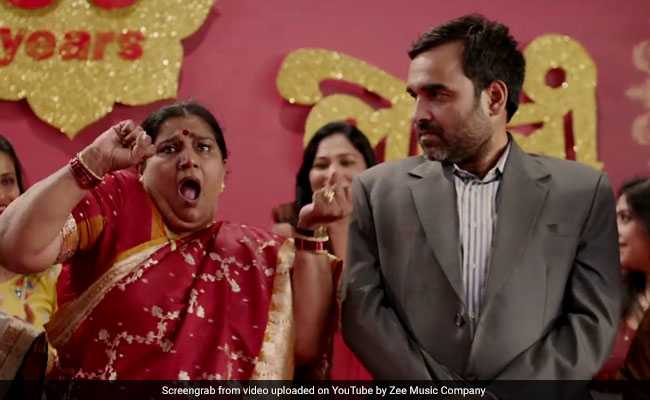 Then there are the two boys. One of them is Ayushman Khurana as Chirag Dubey who has by now almost moulded himself in these characters. At so many points in the movie, you will feel that you have seen him do this so many times, wearing the same clothes so many times and that he needs to maybe act one notch down or just experiment a little with his roles. And the other one is the star performer of the film- Rajkumar Rao as Pritam Vidrohi- a nearly apt amalgamation of his two sides in the film- soft spoken Pritam and the Rangbaaz Vidrohi. He does not miss one beat in the film. Sometimes in one shot of his face, he is able to transform himself from one character into another and it is a treat to watch him. Really.
Talking of beats, the music of the film is pleasant and is aptly placed except for the last song in the film which has a montage of brooding Ayushman Khurana. Sweety tera drama is very very catchy and will make you want to dance except for you will be worried for Ayushman Khurana's shoulder on the verge of getting dislocated. Why so much energy for no reason bro! Take it slow and shut your gaping mouth when you are not lip syncing.
All of this will pack you up with a good dose of entertainment. But there will be some hindrances too. Although, this is Kriti Sanon's most fleshed out character and role, she will look like a misfit in the set up of the film with her nicely done hair, her designer clothes (especially that wedding lehenga) and her on-point make up. She keeps picking and dropping the leheza of Bareilly throughout the film, which is distracting. Another thing that would look unrealistic is the transformation of Rajkumar's character. It is only his acting that saves the under cooked and too abrupt a transition.
A special mention to the voice over narration by Javed Akhtar that is effective in most parts and slightly pushed too hard in others with a compulsive need to rhyme the lines.
All in all, watch this one for sure. It is totally worth your bucks.
Hits- Acting, Direction, Dialogues, Supporting Cast
Misses- Repetition by Ayushman, Slightly inconsistent Kriti, predictable plotline
(Picture Credits- Wikicommons)